Many companies now outsource substantial portions of their technical work offshore, and your company may be considering doing so as well. Here are a few key considerations that may help companies choose the right outsourcing model, and use outsourced technical services efficiently and cost-effectively.
The Many Benefits Of Outsourcing Technical Work
Through outsourcing, we typically save companies based in the US, Canada, Western Europe, Australia, New Zealand, and other markets 80% on their technical staff costs. While reducing costs by 80% is a very compelling reason for companies to outsource technical work, it isn't the only benefit and, in some cases, it may not even be the primary reason for companies to outsource technical work. What other reasons could be nearly as compelling as reducing tech staff costs by 80%? To mention a few:
Offloading mundane, tedious work to enable core tech staff to focus on higher-value work
Enabling companies to spend less time, effort, and money on recruitment
Quickly growing a company without a large HR/admin/recruiting infrastructure
Beating competition to market with a new or improved product
Expediting technical development to help raise venture capital more quickly
Reaching milestones more quickly to help achieve a higher valuation
Reducing technical staff costs by 80% is certainly a huge benefit of outsourcing in its own right. Still, companies should also carefully consider all the other compelling reasons for outsourcing technical work.
What Type of Outsourcing Would Best Serve Your Company's Needs?
There are several different ways to implement outsourcing of technical services. Some companies outsource locally, with outsourced technical staff working in the client company's office or nearby. For many companies, using outsourced technical staff based in another country works very well.
Aside from physical location, another very important decision is whether companies will use freelancers, virtual staffing, or outsourced services. It's quite important to consider the differences among these three methods of outsourcing, and to choose the most appropriate method for a company's needs. These methods aren't mutually exclusive. A company might find that all three methods are applicable, depending upon the type of work, whether a project is ongoing or a "one-off", the number of people needed, etc.
Freelancers
Many companies have success using freelancers for various projects. Freelancers may be found via word of mouth referrals or via web sites that facilitate finding and engaging freelance service providers.
Virtual Staffing
In our company, "virtual staffing" means we help a client company find appropriate technical staff, we provide all human resource and administrative functions, we hire the staff, provide them with work space and infrastructure, pay them, and implement all local regulations and statutory requirements The client interviews candidates and decides which staff are hired, and the client manages the staff. As the name indicates, "virtual staff" are virtually like regular company staff, but at a fraction of the cost of local employees, and without ongoing employment obligations.
Outsourced Services
Many of our clients give us projects to be completed by our in-house team of technical experts. Some of our outsourced services include Ad Ops (advertising operations), web development, and graphic design. Some projects are one-off, some are periodic, and some are continuous. For example, some clients arrange with us to provide 100 hours per month of Ad Ops services.
Perhaps a simple way to differentiate freelancers, virtual staffing, and outsourced services is to consider them, respectively, as unmanaged, partially-managed, and totally-managed models of outsourcing.
Understanding the Differences Between Freelancers and Outsourced Services
It might be instructive to consider some of the many important differences between using freelancers and using outsourced services. We have summarized some of these differences in the table below.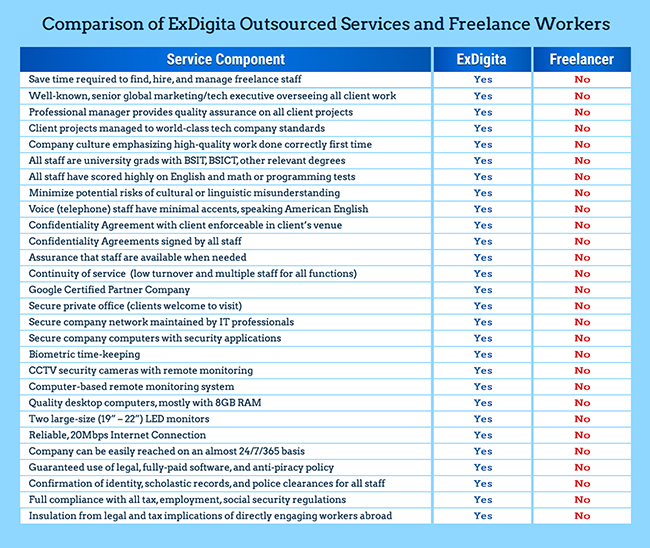 Some of our prospective clients are very surprised when we inform them of the differences between managed outsourced services and using freelancers. For example, in some countries with many freelance technical workers, it is common for freelancers to use pirated software, and to work in Internet cafes or on home computers shared by many family members. Security of client data may be lax or nonexistent, and confidentiality of client data may be compromised.
It is very important to consider that somebody in a client company has to actively manage freelancers, and this can take a significant amount of time. Suppose a freelancer charges $5 per hour, with someone in the client company acting as supervisor, manager, and QA. If, for every 20 hours of freelancer work, a client uses one hour of time to manage a freelancer, and if the client's time is worth $80 / hour, then the actual gross cost of a freelancer would be $9 per hour ($5 + $4). This is about the same hourly cost for some fully-managed outsourced technical services. Thus, in fact, the actual gross cost of using freelancers may, not be less than using fully-managed outsourced services.
Freelancers can be a viable resource for some companies, particularly for sole proprietorships and very small companies in which owners and managers have adequate time to manage freelancers. We sometimes use freelancers for language translation work. But these are short-lived, non-technical "one-offs", involving no confidential information.
It is noteworthy that much of our new business for outsourced services comes from new clients who have previously tried using freelancers, with unsatisfactory results. The complaints we hear most often is that the quality of outputs from freelancers was not up to expectations, that too many corrections and too much back and forth communication were necessary, and that clients had to spend too much time managing freelancers to get the desired results.
The Biggest Mistake Is Not Trying Outsourcing
Having spent the past 17 years involved with web site development, online marketing, and advertising technology, I've been able to experience technical outsourcing as both a client and as an outsourcing services provider. Based upon my own experiences, outsourcing technical services can be a major "game changer" for companies including ad tech companies, e-commerce companies, online media publishers, digital agencies, and others. With so many companies outsourcing technical work offshore these days, I'm surprised when I find an ad tech company, digital agency, online media publisher, or e-commerce company that is not leveraging the game-changing power of outsourced technical services.
The author, Paul Anders Schwamm, has lived in Asia twenty-five years, and has seventeen years of online marketing and advertising technology experience. A serial Internet entrepreneur, Paul started ExDigita Inc. in 2013 to provide outsourced technical services and virtual staffing to digital companies. Please feel free to ask us for a proposal regarding how we can help your business grow and prosper by leveraging the power of outsourced technical services.